It's the most wonderful time of the year – time for the annual 25 Days Of Christmas Movies Blog Hop! #ChristmasMoviesHop
We have 25 talented bloggers gathered together to share with you all the wonderful crafts and recipes you can make this Christmas season, based off of some of the most beloved holiday classic films. There are 25 films to be inspired by for your holiday season, and 25 talented bloggers to aid your inspiration! If you love Christmas movies, you have come to the right place!!
Let's Meet The Hosts!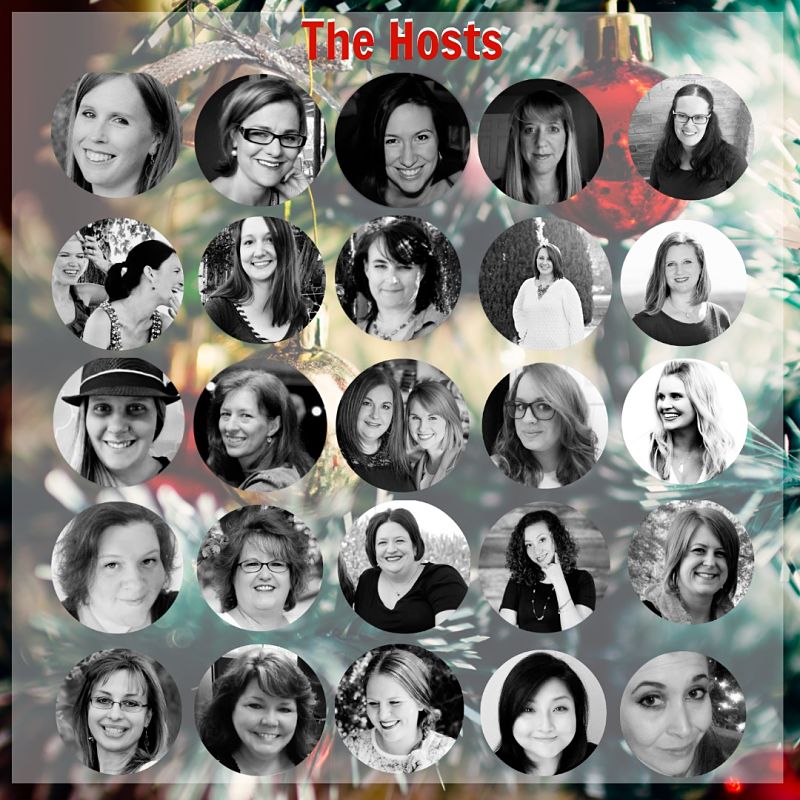 Megan ~ C'mon Get Crafty | Erlene~ My Pinterventures | Lindsay ~ seeLindsay
Marie ~ The Inspiration Vault | Maureen ~ Red Cottage Chronicles | Emily ~ Domestic Deadline
Stephanie ~ The Tip Toe Fairy | Rebecca ~ The Moments at Home | Michelle ~ Our Crafty Mom
Pam ~ P.S. I Love You Crafts | Sue ~ A Purdy Little House | Heather ~ The Busy Giffs
Erica ~ 5 Little Monsters | Valerie ~ Occasionally Crafty | Sara ~ The Holy Mess
Tina ~ Sweet and Salty Sisters | Sam ~ Raggedy Bits | Christine ~ Where the Smiles Have Been
Allie ~ Vigor it Out | Lyne ~ Lynn's Everyday Ideas | Kim ~ Made in a Day
Nina ~ Crazy for Cookies and More | Carrie ~ A Princess and Her Pirates
Jaclyn ~ The Dotted Nest | Kelley ~ Simply Inspired Meals
Nutcracker Land of Sweets Cookie Pops
The magic of The Nutcracker Ballet is a Christmas tradition for many adults and children alike. It is a fairy tale ballet in two acts centered around the Staulbaumm's family Christmas Eve party where their daughter Clara receives a Nutcracker doll from her Uncle Drosselmyer. The first Nutcracker Ballet was performed in St Petersburg, Russia in December, 1892. The first United States performance of The Nutcracker was in 1944 by The San Francisco Ballet. The ballet achieved it's great popularity in 1954 when The New York City Ballet performed George Balanchine's Nutcracker. Today, ballet companies across America produce stunning choreography with magical sets and scenery. It is often a tradition for many families to attend the Nutcracker in their city as an annual Christmas tradition. If you don't have a ballet company in your city or nearby city, there are several versions of The Nutcracker on film. You can enjoy this classic fairytale ballet right from the comfort of your own home! My all time favorite Nutcracker on film is with Mikhail Baryshnikov and Gelsey Kirkland from 1977. As a child I would stay glued to the screen as the magic of The Nutcracker unfolded before my eyes.  
Gelsey Kirkland and Mikhail Baryshnikov – The Nutcracker Movie 1977
In the beginning of the story there is a Christmas Eve party at the Staulbaumm's where the magic begins with Uncle Drosselmyer's gifts to the children, especially Clara's beloved Nutcracker doll. Once the guests have departed and it is night, Uncle Drosselmyer's magic continues with the growing Christmas tree in the Staulbaumm's home and the nutcracker doll transforming into a human sized Nutcracker. A battle begins between the Nutcracker and The Mouse King. Clara, who should be asleep sees the battle and saves her beloved Nutcracker by throwing her shoe at the Mouse King. The Nutcracker is  then changed into a Prince. Clara and her Prince are transported on a sleigh into the magical Land of Snow where they are greeted by the Snow Queen, Snow King  and dozens of lovely snowflakes. As Act II opens up, Clara and her Prince have traveled from The Land of Snow to The Land of Sweets where they are greeted by The Sugar Plum Fairy and her Cavalier. The Sugar Plum Fairy asks Clara and her Prince to be their guest as they are entertained by the dancers from different countries all with their own sweet treats for Clara and her Prince. This Cookie Pop Recipe is inspired by the magic of The Land of the Sweets! I hope you enjoy this fun and tasty recipe while you celebrate Christmas, The Nutcracker, and all of the magic that The Holidays can bring.
Nutcracker Land of Sweets Cookie Pops
Ingredients
1/2 Cup Butter Softened
1/2 Cup Shortening
1 Cup Granulated Sugar
1 Cup Powdered Sugar
2 Large Eggs
1/4 Cup Vegetable Oil
2 Teaspoons Vanilla Extract
4 Cups All Purpose Flour
1 Teaspoon Baking Soda
1 Teaspoon Salt
1 Teaspoon Cream of Tartar
Colored Sugars
Wilton Cookie Sticks
Instructions
Cream butter and sugar with an electric mixer on medium speed until fluffy.
Add granulated sugar and powdered sugar. Beat well.
Add eggs, oil, and vanilla, and beat until blended.
Combine flour, baking soda, salt, and cream of tartar in a separate bowl.
Add dry flour mixture slowly to wet mixture until blended well.
Cover and chill dough for at least 2 hours.
Shape dough into 1 1/2 inch balls.
Roll each ball into colored sugar in individual bowls. Press gently if needed to coat the balls.
Place the sugared balls 2 inches apart on baking sheet.
Once the balls are placed on the cookie sheet, then place the cookie sticks about 1" into each cookie.
Bake at 350° for 11 to 12 minutes or until set.
Let cool at least 2 minutes on baking sheet, then transfer the cookie pops to wire racks to cool completely.
7.8.1.2
9
https://www.sweetandsaltysisters.com/nutcracker-land-of-sweets-cookie-pops/
Ready to go into the oven
Cooling on the rack
 
     Ready to Eat!
Now let's check out the rest of the amazing Christmas creations!